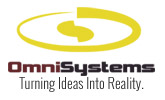 Today Axcess Canada Inc & Omni Systems, Inc. (OmniSystems) announced immediate availability of the
Jentu Technologies Secure Diskless Deployment Technology which is to be installed in U.S. Government
Facilities as a secure alternative to VMWare VDI.
This breakthrough technology provides a secure latency-free provisioning platform for desktops and server farms as well as mobile access. OmniSystems performed an architectural review and conducted internal scans of the Jentu Appliance along with vulnerability scans against the appliance using industry leading security and vulnerability scanning tools from vendors such as Tenable Network Security and HP.
Our team found no vulnerabilities with the product at the time of the scans. The Jentu Appliance provides a new way to manage data efficiently and eliminate the cybersecurity risks of Malware. Key elements of the product include:
SECURITY AND BUSINESS CONTINUITY
No persistent data storage at the desktop – data is stored and secured centrally
One secure read-only golden hard drive image per endpoint group
Reboot to restore to golden image to control virus and mitigate data breach impact
No malware residue upon reboot to golden image
No loss of data with endpoint theft
Risk free OS and application patches, updates and upgrades
Addresses 19 of 20 SANS Security Controls
No provisioning to unauthorized ID (Jentu can be set to silent, no OS provisioned unless in master table, additionally all end point computers can be bitlocked / encrypted)
Simplified and effective network segregation
High availability and server replication available
OPERATIONAL EFFICIENCIES – LOWER TCO
Jentu acts as master image repository for OS and applications
Multi location and multi floor management with web based management panel
Lowered TCO through simplified and streamlined configuration, delivery, maintenance and management of OS and applications
Desk-side support calls reduced by up to 90%
PC's can be instantly reconfigured upon reboot
End user transparency – no workflow disruption when pushing out updates
Risk free software rollout – instant rollback to previous working image, no downtime in case of a bad patch or update
Deployments, upgrades, updates no longer require long planning/implementation cycle
Low cost hardware server requirements
Increase in PC lifespan up to 200%
PERFORMANCE
Non-virtualized desktops means full desktop processing power
Jentu adaptive acceleration for up to 20X increased network performance
Virtualization can be run on all end point computers or servers
INDUSTRY COMMENTS ON JENTU PLATFORM
Brian Madden, Desktop Virtualization Expert and Blogger with TechTarget said the following:
"Jentu is disk block "streaming" where you take the hard drive out of a computer, do a PXE boot, and it connects to a central image which is run locally on the desktop. You get bare metal (i.e. no hypervisor) performance on your desktop, and with 100MB or 1GB networks and a bunch of drives and cache in your server, you can actually get better performance than a local disk.
The real advantage though is the central management, security, and the ease of reverting back to a stable state (or swapping out an image) just by rebooting the desktop. (It's like an instant version of Ghost, or a more secure version of Deep Freeze.)"
Michael Ball, CISSP, Guest Blogger ITWorldCanada stated the following:
"Remember that MAPS acronym from Citrix? Management, Access, Performance, and Security. Jentu is batting 4 for 4 on this. Management is still centralized. Access to images is local to the provisioning server. Performance is determined by the individual desktop hardware used, and the network connectivity provisioned. Security is ensured through encrypted iSCSI, as well as security and patch management of centralized images.
If you haven't heard of Jentu, I suggest you go check them out now. You'll definitely be hearing more of them in the future."
ABOUT AXCESS CANADA
Axcess Canada was established and officially launched in September 2007 as a key distributor of a number of highly configurable technology platforms in the Loan Management, Enterprise Content Management and Network Management Space. This now includes licensing the Jentu Secure Diskless Deployment Technology. Since that launch Axcess have expanded to support clients in the UK, Europe and across North America. We provide complete software support for our global customers in many sectors including full business analytics to assist in product creation and/or optimization due to market or regulatory changes.
ABOUT OMNISYSTEMS
Established in 1993, Omni Systems, Inc. is a federal systems engineering, software development and consulting firm specializing in the development and integration of web-enabled systems. Omni Systems areas of expertise include cyber security, document and case management, full life- cycle software development and network infrastructure design and implementation.
ABOUT JENTU TECHNOLOGIES
Jentu Technologies is a Toronto Canada based technology company that was created after Abraham Megidish, who ran a Managed services company successfully for nearly 30 years, decided to release their software they developed to manage Desktop and Server infrastructure for their clients. Jentu has developed a Secure Diskless Deployment Technology that eliminates the risks of Malware in any operation and reduces operational costs of managing desktops by up as much as 96%. Jentu's goal is to provide a low cost, very easy to use and operate, simple, robust tool that actually delivers on the promise of management, access and security, while at all times keeping the systems performing at their optimum.
https://jentu-networks.com/wp-content/uploads/2015/02/OmniSystems-Turning-Ideas-Into-Reality.jpg
100
165
Abe
https://jentu-networks.com/wp-content/uploads/2016/08/jentuORANGE-300x159-300x159.png
Abe
2016-07-16 16:40:10
2016-07-16 16:40:10
Jentu Appliance Has Passed Security Audit for Use in U.S. Government Installations